Here's how to fit the GO-Box correctly
Only a correctly fitted GO-Box can communicate with the toll gantries without interference. Please fit the GO-Box correctly to avoid substitute toll claims.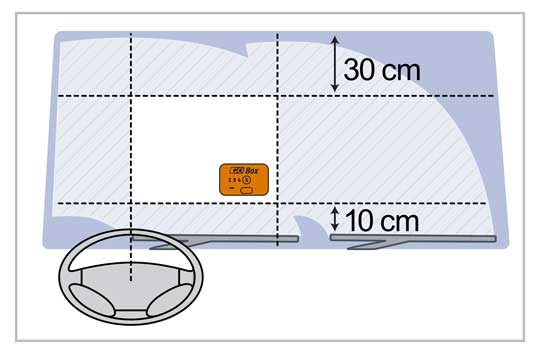 GO-Box assembly
Use the self-adhesive Velcro strips (enclosed in the original packaging).
Point the control button towards the inside of the vehicle.
Position the GO-Box

between the centre of the vehicle and the centre of the steering wheel,
at least 10 cm above the windscreen wiper in its rest position, and
at least 30 cm below the top edge of the windscreen.

Keep the installation area within a radius of 10 cm free of objects (name plates, sun visors ...).
The installation area must not be located in the tint strip.
Common mistakes
Name plates are attached to the windscreen and hinder communication between the GO-Box and the toll gantry.
Windscreen wipers overlap the GO-Box when not in use and obstruct communication between the GO-Box and the toll gantry.
The GO-Box is located on the dashboard. The GO-Box and toll gantry cannot communicate with each other, no transaction takes place.