GO toll in 3 steps
Here is what you have to know
How to register your lorry, bus or motorhome over 3.5 t MPW for the GO toll system in 3 steps.
You can obtain a GO-Boxfrom one of our GO points of sale. You can recognise our GO points of sale by these symbols: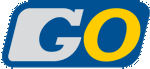 For signage, please refer to Annex 5 of the tolling regulations.
Please prepare this information:
Vehicle number
State which the vehicle was approved in
Vehicle type: HGV, bus or mobile home
Rate-relevant characteristics: drive type, EURO emission class
In addition, you will need:
You will receive your GO-Box from the GO point of sale, as well as the Vehicle Declaration, on which you will also find your Personal Account Number (PAN).
Check the details on the customer receipts that you get from the GO point of sale. Have incorrect information corrected on site!
Ensure that your Vehicle Declaration is inside the vehicle at all times!
The rate-relevant characteristics of your vehicle over 3.5 t MPW have an effect on the level of the toll. The "cleaner" your vehicle emissions, the lower the toll.
The rate-relevant characteristics are:
EURO emission class
Drive type
Proof must be received by ASFINAG within 28 calendar daysof the characteristics being saved on the GO-Box:
Vehicle's registration certificate
CoP document (Conformity of Production)
CEMT certificate of conformity with the technical and safety requirements for a motor vehicle (CEMT certificate for short)
CoC document (Certificate of Conformity)
You can send us the documents using any other following methods:
E-mail: euroclass@asfinag.at
Upload to the SelfCare Portal
Fax: +43 50 108-912 913
Post:
ASFINAG Maut Service GmbH
ASFINAG Service Center / EURO-Emissionsklassen
Alpenstraße 99
5020 Salzburg
AUSTRIA
The signal tones from the GO-Box tell you, if you paid your GO toll successfully as well as about need for action.
What the acoustic signals mean
1 short signal tone
Transaction ok
2 short signal tones
Transaction ok, but!
However! Please visit the nearest GO point of sale to receive more detailed information!
Possible need for action: You need to pay toll retroactively; you need to change the number of axles of your vehicle; Pre-Pay credit is running out; stored data needs to be changed; the GO-Box must be replaced; etc.
If you do not comply with the request, your GO-Box will be locked (4 short signal tones).
4 short signal tones
Transaction unsuccessful! The toll has not been debited. GO-Box is locked.
Please pay the toll at any GO point of sale within the next five hours / 100 km and request for your GO-Box to be unlocked.
No signal tone
Transaction unsuccessful! GO-Box is not working!
Exchange your broken GO-Box at the nearest GO point of sale. Pay toll retroactively.