Toll obligation
For motor vehicles over 3.5 tonnes maximum technically permissible laden mass
All vehicles* driven on motorways, expressways and section toll segments are subject to the toll in Austria. The toll rate system is regulated by the Tolling Regulations.
* The exceptions to the rule: Blue-light vehicles, army vehicles, vehicles of the public security service, the financial administration and judicial guards, vehicles of foreign security authorities as well as foreign customs and judicial authorities are exempt from the toll, as are confiscated motor vehicles to which an official vehicle license plate number of the financial administration is attached.
Find out in good time before your journey about the toll obligation in Austria and about the handling and function of the GO-Box.

Trucks, buses and heavy motorhomes pay GO tolls
If you drive a multi-track motor vehicle over 3.5 tonnes maximum technically permissible laden mass, you must pay a mileage-based toll. We call this the GO toll or "HGV toll".
You can find all information on this and the SelfCare portal on this website.
Cars, motorcycles and light motorhomes require a vignette or a section route toll ticket
If you drive a single or multi-track motor vehicle up to 3.5 tonnes maximum technically permissible laden mass, you must pay a time-based toll, also known as a "car toll" (vignette and route toll).
You can find all the relevant information in the ASFINAG Toll Shop.
What you need
You need a technically suitable on-board unit
The GO toll system works with microwave technology (DSRC – Dedicated Short Range Communication). To be able to pay GO tolls, you need an on-board unit (OBU – on-board unit) that is suitable for this technology. You can obtain such a device from our GO points of sale: the GO-Box.
Also possible: Use the Toll Collect OBU or your emotach device.
On which sections do you pay GO tolls?
Toll sections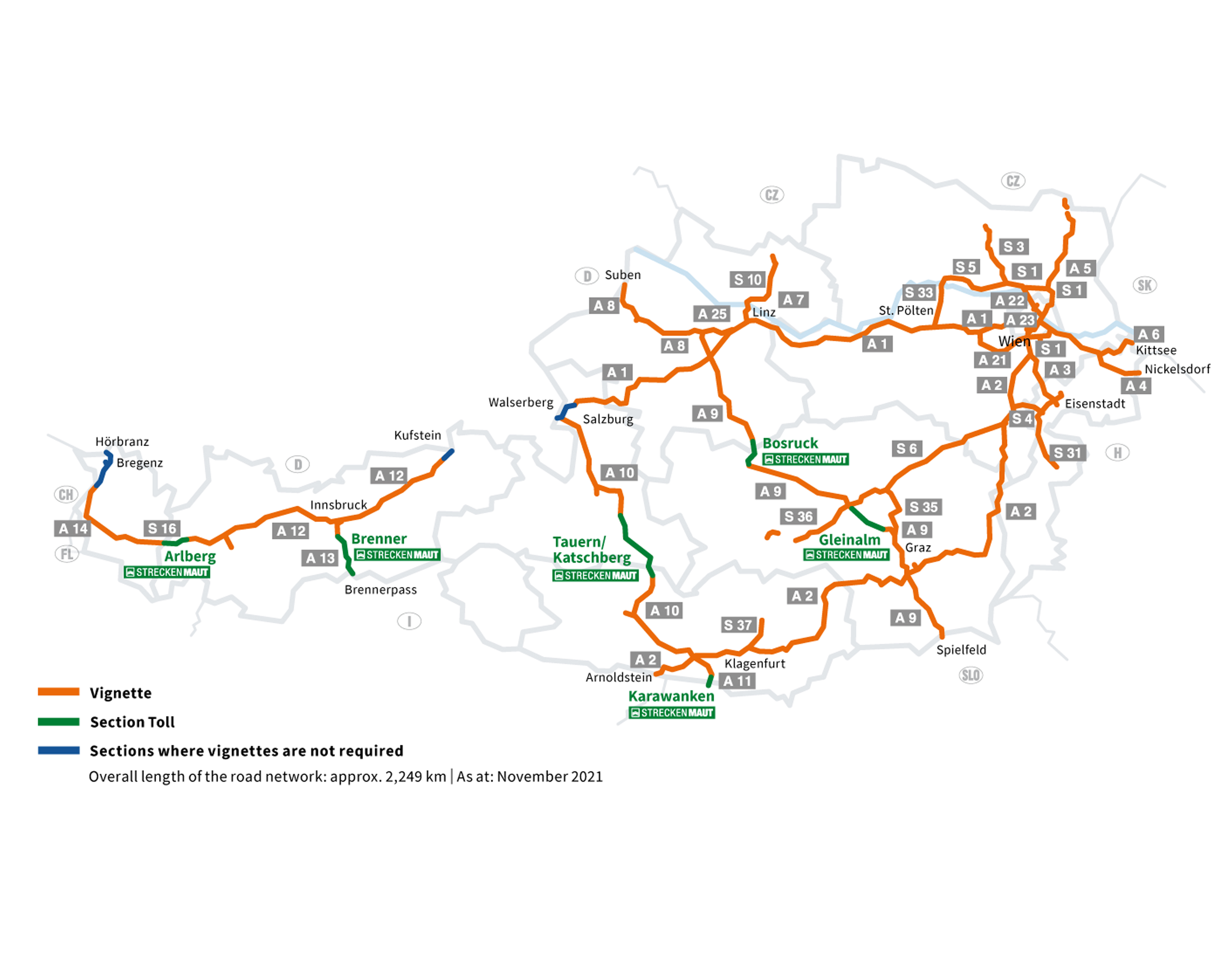 ASFINAG toll section network
You pay the GO toll on the entire toll network in Austria – on motorways, expressways and toll sections.
The section network is divided into many small toll sections. This way, you only pay GO toll for the section you actually drive on (distance-related toll).
The best way to find out how much a section costs is to look at the rates or to use the toll calculator or the toll calculator light.
How much is the toll?
Rate-relevant characteristics
The amount of the toll for vehicles over 3.5 tonnes maximum technically permissible laden mass depends on:
Distance driven
Number of axles
Daytime
Pollutant emissions
What else you should be aware of
Rate characteristics requiring evidence and obligation to cooperate
Rate characteristics for which evidence is required
Pay particular attention to the fact that you must provide us with evidence of certain rate-relevant characteristics (drive type, EURO emission class). You have 30 days to do this after registering for the GO toll system or after changing rate-relevant characteristics.
You can find all information on rate characteristics that require evidence here.
Obligation to cooperate
Pay particular attention to the following points:
Is the GO-Box (your on-board unit) working? Is the GO-Box correctly attached? Does the communication between the on-board unit and the GO toll system (toll beacons) work? Pay attention to signal tones
Is the data on the GO-Box up to date? Does the data stored on the GO-Box match the information on the vehicle declaration? GO points of sale
Do you have to pay tolls retroactively? Retroactively pay toll